Expert in
Crime Scene Cleanup

in Tampa FL and All Surrounding Areas
Experts in crime scene cleanup, we remediate all biohazards so the impacted area is free from all biohazards and pathogens. Rest assured that your property will be safe to return to when we are done.
Crime Scene Cleanup Services
When the unthinkable happens, you should only have to focus on moving forward with your life. Unfortunately, matters like decontaminating, cleaning and restoring the scene of the crime must be addressed as soon as possible. We serve you by handling those affairs once you give us a call. We can set an appointment and we'll take it from there.
Discretion Guaranteed
Your privacy is our priority. We provide discreet, compassionate, and professional help in your time of need.

We Are Here For You
You can rely on us to handle everything with empathy, respect and proficiency.

No Out-Of-Pocket Cost
We work with all the major home insurance carriers so you can keep finances out of the picture and focus on moving forward.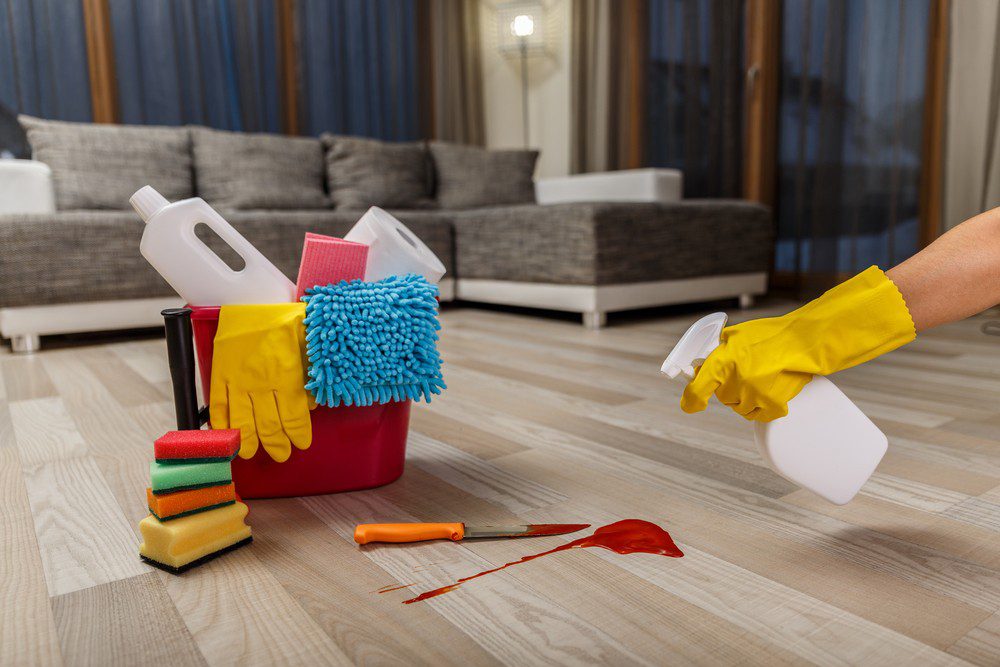 To protect yourself from any future liability and your family, friends, and employees from disease, call our expert staff to come in and cleanup, disinfect, and remediate your property.
Licensed by the state of ​Florida, our professional staff have undergone multiple specialized trainings on how to deal with blood-borne pathogens and biohazard waste.
Most homeowner's insurance will cover the cost of the cleanup. Your only exposure would be your deductible.
If there is contents coverage, they will also replace carpet, bedding, or whatever else has been affected. We will be more than happy to help you open a claim to ensure that you get the maximum coverage that your policy will allow.
Not sure if there is insurance? No problem, we do not require money at the time of service ​We are here to help in any way we can. Please call us if you have any questions you may have.
American Family Bio Clean

is the Leading Blood Cleanup Company in Florida
American Family Bio-Clean is the leading blood cleanup company in Florida. We are professionals that conduct ourselves in a compassionate and discreet manner. We wear proper PPE and follow proper protocols and adhere to the laws and regulations as set forth by the State of Florida. Additionally, we are​ certified, general contractors. Not only will ​we clean up a decontaminate after a blood spill, but we are also able to perform any necessary reconstruction of floors or other surfaces that may have become damaged.
Please don't hesitate to call us. We'll handle everything in an empathetic, professional and prompt manner.
Florida's Leading Crime Scene Cleanup Company
Why It's Important Not to Lose Your Calm After a Traumatic Event
The unattended death of a loved one can be a harrowing experience. Therefore, it is understandable that most people lose their calm after losing someone close to them. It is especially true if you feel you did not do enough for your loved one. At first, you are likely to convince yourself that they are not dead yet. This is followed by anger and vulnerability.
The death of a loved one is complex and can cause you to feel a whirlwind of emotions. In these situations, it is essential to stay calm. When you do your very best to remain calm, you can make the right decision and preserve your mental health. Whenever you feel unsure of what to clean after the unexpected death of a loved one properly, it would be best to contact American Family Bioclean. We provide the most reliable cleanup services in Tampa, Florida.
Caring & Compassionate Services from American Family BioClean
American Family Bio Clean is the Leading Blood Cleanup Company in Florida